Simple
Announcements
for Jira Cloud
Show important announcements and reminders to Jira users, or Service Desk customers.
Rated on Atlassian Marketplace
Features

Announcements in your Jira Cloud Instance
Simple Announcements provides one of the only ways to show Announcements in Jira Cloud, since Atlassian has removed the built-in Jira Announcement banner.

Easy Creation of Announcements
Use the same Rich editor that Jira Cloud uses to easily create announcements. No need to learn new markup.

Different types of Announcements
Announcements support different visual styles to convey different urgencies and purpose.

Schedule Announcements
Announcements can be scheduled to start sometime in the future, and/or to end on a specific day. Ideal for time-specific information.

Service Desk Compatible
Create Service Desk speicifc announcements to notify customers about important things directly in the support portal.

Manage visibility
Announcements can be shown to public users, logged in users, or only to Service Desk customers. The choice is yours.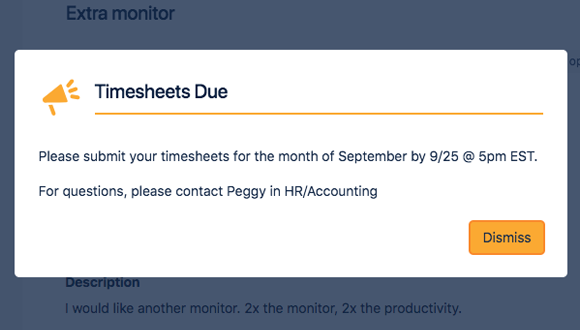 Info Announcement
Set the color of your announcement, pick an icon, give it a title, and enter a message.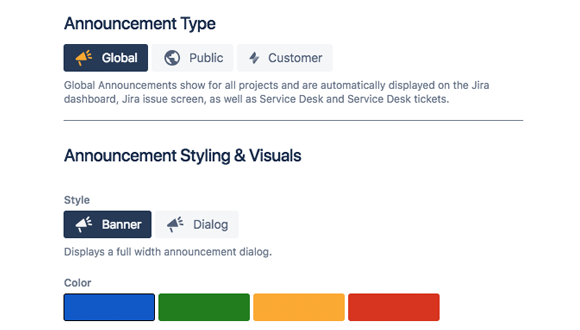 Essily Create Announcements
Creating an announcement is as easy as selecting your target audience, deciding on the visuals, and entering your message.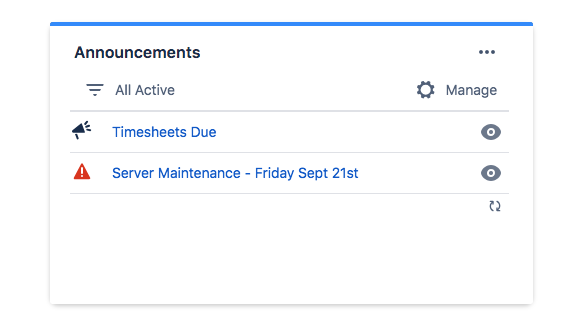 Dashboard Widget
The announcements dashboard widget makes it possible to show announcements on any Jira Dashboard. It also has the added benefit of showing all active announcements.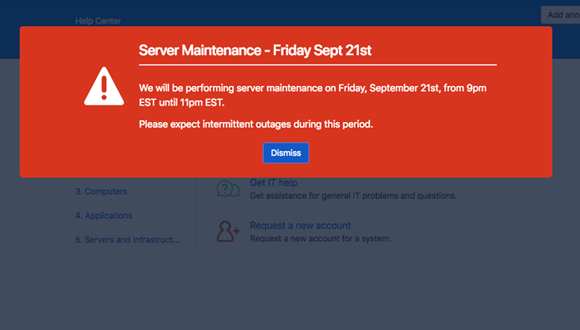 Solid Banners
Banner style announcements have a solid background, making them perfecct for more urgent announcements that need a bit more "severity".
Support
Whether you have a product question or a general inquiry, our Support team is here to help. All you have to do is submit a ticket and we'll respond shortly.
SUPPORT CENTER
Our documentation
Managing Announcements
Quickstart to get you up and running
Authoring Announcements
Create rich announcements for your users
FAQ
Will Announcements show up on all Jira screens?
Unforuntately, no.
Atlassian doesn't provide many locations for addon developers to inject content. As such, we are currently restricted to showing announcements on the issue details screen, Jira Dashboards, as well as all Service Desk related screens.
Of course, once Atlassian adds more locations in the UI, we will add them to this app.
Can I have multiple announcements at the same time?
Absolutely!
You can create multiple announcements and have them active at the same time. The same counts for scheduled announcements as well. The addon will always grab the first announcement a user needs to see, and then once the user has acknowledged it, we automatically load the next announcement until all of the active ones have been shown to the user. Thus, users only deal with 1 announcement at a time, but all the announcements are shown one after another.
Why would I want to use this instead of the Jira Announcement Banner?
Atlassian has removed Jira Announcement Banners as a feature and they are no longer available in Jira Cloud.
While Atlassian has announced some intent on bringing back basic Announcement Banners, the last update was many months ago, and there are no news when this might actually happen.
As such, this app currently provides one of the only ways to show Announcements in Jira Cloud at all.
Can I have project specific announcements?
At the moment, only Service Desk projects allow for project-specific announcements (called Customer Announcements). These however only display in the Service Desk related screens, and not the Jira screens.
More granular announcement visibility, either for specific projects, or even specific user groups is on our roadmap however.
ALL QUESTIONS
Try our other apps
Apps for Jira and Confluence
EXPLORE